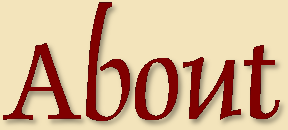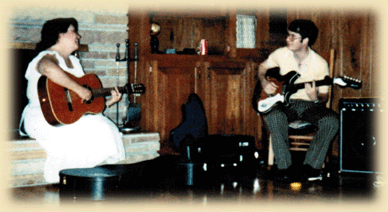 Irma and Scott during rehearsal (1980)
Why Music for All Seasons? We have played for weddings, birthdays, funerals, and everything in between. Years ago we decided to name our business Music for All Seasons to reflect our passion for teaching and performing music that celebrates all the seasons of life.
In our teaching, we've seen youths formally disinterested in everything find a nitch, taking off like rockets. We've seen widows/widowers find new motivation for living, as well as a new community with whom to share life's experiences. At medical facilities, we've seen patients thought to be unreachable light up and interact through the power of music. The power of music...a wonderfully consuming facet of our marriage and our lives.
We both started performing out while still in high school. We met in college through our love of music, and have been performing together since 1977. We are both accomplished vocalists, and we each play an ever increasing stable of musical instruments. We have performed many styles of music including barbershop, country, country gospel, folk, cowboy, old-time, blues, jazz, rockabilly, Celtic, traditional and contemporary Christian, pop, bubblegum rock, classical, light opera, and opera.
As we've gotten more and more into unique folk instruments, we've found great enjoyment in playing traditional Celtic tunes (Irish, Scottish, other) blended with our own particular flair. Our audiences regularly express their delight in our musical art of arranging, often seeing particular instruments for the very first time. Irma grew up with old-time country music. Having left that genre for half a lifetime due to other musical interests, we find ourselves performing more of these tunes. It is worthwhile to note that this American tradition developed from the tunes our ancestors brought over with them from Europe, and there are many common tunes and style similarities, even today. We continue to cherish classical pieces that have touched us all of our lives, pop songs from past decades to the present, and new and old songs associated with the Christian faith. We have a smattering of jazz pieces in our repertoire, and choral pieces that we adapt to our current interests and distinctive instrumental accompaniment.
The Musical Past
Our lives are strongly centered around music, well beyond Music for All Seasons. We've led weekly church music since the early 1980s, giving us vast performance experience and opportunities to constantly evolve the technical and artistic aspects of our musical interests. Irma is a gifted choir director, and has always had a choir going at the churches we've belonged to, as well as being music administrator. Besides performing in school stage bands, vocal quartets, choirs, and musicals, Scott was in several bands in high school with friends.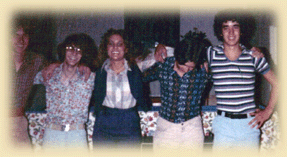 Dave, Scott, Linda, Larry, & John of Sweetlife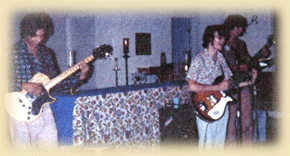 Scott in middle with sideburns (1977)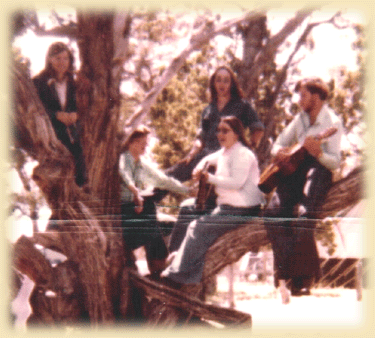 Eileen, Jesse, Ken, Irma, & Bill of Sonshine (1976)
(Scott) After high school, I had a Christian electric band, Sweetlife, that focused on original material. While still in high school, Irma directed a boys' choir at a local church. She then started a primarily acoustic evangelical folk band, Sonshine, which I joined when we first met. She kept Sonshine together throughout our college days. It was through this experience that I fell in love with her energy and passion for music, her organizational skills, and her beautiful smile and voice, wanting to sing with her the rest of my life. Irma did musicals in college, and later sang with opera and light opera companies. One of her favorite things in the early 1980s was singing torch songs with the Michael Iatauro Jazz Quartet for an annual golf tournament reception. Over the course of our days, we've formed many bands and instrumental and vocal ensembles, to include the Royal Ensemble (the two of us paired with two talented college-age musicians in the late 1980s/early 1990s), other groups where we were mentoring young and not so young musicians, Sounds of Grace, a 6-member women's group that ran about 9 years that did exquisite vocal numbers, various pairings with other individual musicians of all sorts, and our ongoing cowboy band, Wing & a Prayer. Besides the endeavors we've created ourselves, we've invested decades under other directors' supervision in a wide range of other musical adventures.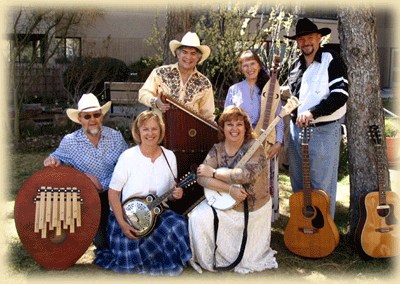 Steven, Shirley, Scott, Irma, Ann, & Curtis of WAP (2008)
(Scott) Encouraged by my mother who was a practicing registered nurse for over 60 years, we started singing at hospitals, nursing homes, and the like early in our marriage. We founded Wing & a Prayer (WAP) in late 2004 for a couple of different reasons. The band's primary purpose is to play free of charge at nursing homes and elder care facilities. We picked the timeless genres of country gospel, cowboy, and old-time fiddle as a means of connecting solidly with our targeted audience. To our great surprise, we've found people of all ages enjoy our repertoire. The band will play for church or other Christian organization fund raisers without charge. We've also played at art fests, folk and bluegrass festivals, cowboy camp meetings and conventions. While Irma sang with her sisters when they were kids, their music activities stayed separate through their adult years until we started up the band. Irma and her sisters have enjoyed doing "family" music again. One sister and husband were founding members, the other sister living about 90 miles south being in the band for a while, and their 80's plus mom sitting in on guitar during performances on some tunes from time to time. A third reason for the band was to get away from some of our former pursuits where we had chased the slippery goal of (technical) perfection. We've done some really good music in such contexts, but had grown weary with those pursuits, and wanted a testbed where we could advance our skills on less familiar instruments in a casual and forgiving environment, and just get back to having fun.
Teaching
(Scott) We understand how incredibly valuable music is for many folks at different stages in life, and how music can radically add to the value of life for those that take the leap for the very first time. While I teach from time to time, Irma has kept up a regular schedule of teaching since a teen. Beyond simply teaching instrument and vocal technique, there has been a heavy emphasis on teaching musicality, stage presence and performance skills, repertoire selection and arranging, playing from the heart, and depending on the student's persuasion, making music in determined Christian ministry. We have mentored many that have become very successful musicians, and it brings us great joy to be keeping live music alive. We rejoice that God has permitted us to touch and help change lives through our own passion and calling. You can read more at Teaching.
Albuquerque Rail Yards Market (Albuquerque, NM)
Apple Mountain Music (Albuquerque, NM)
Casa Rondena Winnery (Los Ranchos de Albuquerque, NM)
Central Arizona College (Apache Junction, AZ)
Chama Cowboy Days (Chama, NM)
Edistol Hall, James Island County Park (Charleston, SC)
Hacienda Varges (Algodonas, NM)
Gertrude Zachary Mansion (Albuquerque, NM)
High Country Horseman's Association (Chama, NM)
Hyatt Regency Tamaya Resort (Santa Ana Pueblo, NM)
Irish American Society of New Mexico (Albuquerque, NM)
Lincoln County Cowboy Symposium (Ruidoso, NM)
Locally Grown Music (Albuquerque Uptown Growers' Market, Albuquerque, NM)
The Luna Mansion (Los Lunas, NM)
Montosa Cowboy Camp Meeting (near Datil, NM)
Nature Point (Tijeras, NM)
New Mexico Boy's School (Juvenile detention facility, Springer, NM)
Old Town Plaza Vieja Gazebo (Albuquerque, NM)
Rancho de Corrales (Corrales, NM)
Rio Grande Nature Center (Albuquerque, NM)
Socorro County Fair (Socorro, NM)
Sunport Serenades (Albuquerque International Sunport, Albuquerque, NM)
Twisted Chile Brewing Company (Socorro, NM)
Weems International Artfest (Albuquerque, NM)
Wildlife West Nature Park (Bluegrass Festival, Fall Festival and Chuck Wagon Dinner - Edgewood, NM)


Albuquerque Folk Festival (Albuquerque, NM)
Albuquerque Jubilee Festival (Albuquerque, NM)
Colorado Dulcimer Festival (Fort Collins, CO)
Jemez Mountains Dulcimer Festival (Los Alamos, NM)
Lone Star State Dulcimer Festival (Glen Rose, TX)
New Mexico Dulcimer Festival (Albuquerque, NM)
New Mexico Shamrock Fest (Albuquerque, NM)
Red River Dulcimer Festival (Red River, NM)
Rio Grande Valley Celtic Festival (Albuquerque, NM)
Santa Fe Bluegrass and Old Time Music Festival (Santa Fe, NM)
Socorro Celtic and Blues Festival (Socorro, NM)
Winter Festival of Acoustic Music (Irving, TX)


KRQE Mornings (Local Fox TV station, Albuquerque, NM)
Afternoon Freeform with Carol Boss (KUNM 89.9 FM Radio, Albuquerque, NM)
Ear to the Ground with Matthew Finch (KUNM 89.9 FM Radio, Albuquerque, NM)
Weekend Edition (NPR) with Spencer Beckworth (KUNM 89.9 FM Radio, Albuquerque, NM)
Christ is Here Program (KDAZ 730 AM Radio, Albuquerque, NM)
Alumni Memorial Chapel (University of New Mexico, Albuquerque, NM)
Kirtland Air Force Base Chapel (Albuquerque, NM)
The Lorreto Chapel (Santa Fe, NM)
Innumerable New Mexico churches (Albuquerque, Belen, Chama, Edgewood, Estantia, Las Cruces, Magdalena, Peralta, Pie Town, Rio Communities, Rio Rancho, Santa Fe, Socorro, Springer, etc.)
Area hotels, club houses, libraries, hospitals, nursing homes, memory care units, Alzheimers units, weddings, funerals, and private parties