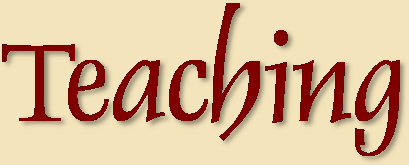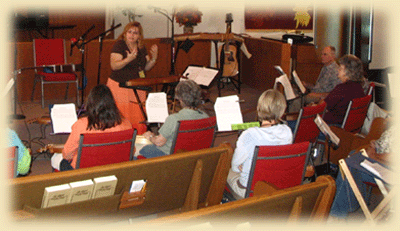 Irma teaching at 2010 New Mexico Dulcimer Festival
Mountain Dulcimer Group Classes
Private Lessons (harp, mountain dulcimer, guitar, voice)

(Irma) I currently teach Celtic harp, mountain dulcimer, guitar, and voice privately, and harp and mountain dulcimer group classes through University of New Mexico Continuing Education and Apple Mountain Music Store in Albuquerque. I also enjoy leading workshops at various music festivals. Teaching has been a rewarding part of my life, and I welcome the opportunity to work with students of all ages and backgrounds to help them attain their musical goals.
My first guitar student was my best friend when I was 10, and I have been teaching continuously since age 15. In addition to teaching privately and in church settings, I had the chance to teach music at a parochial school, 200 kindergarten through 8th graders, daily classes and 2 performances a year with the entire student body. Five-year-olds buzzing to The Flight of the Bumblebee, 4th graders who pretended they were movie stars performing at the local cable TV station or having them adopt "grandparents" at the local nursing home for several visits a year, 6th-8th graders bopping to 50's tunes and learning the instruments in symphonies, seeing my Science Olympiad students take top awards for their music instrument inventions - the best day-job I've ever had! A few years back, several Celtic harp students wanted to learn to play in hospice/nursing home environments. We met for a few practices, then I took them to facilities to give them on-the-job training. Well beyond the music, this involves showing students by example how to deal with the typical distractions, and how to connect in love with the residents and staff before, during, and after the music takes place. It was such a great experience that we try to do this each Christmas.
As adults we don't have a lot of time for lessons and practice, and I like to work towards realistic expectations with my students as they try the juggle the many facets of their lives. I'm not interested in building up a large group of long-term students. A success story is when the student no longer has to rely on me, but has the confidence to branch out on his own, developing his own style and repertoire. Of course, I'm always available for "tune-ups" as needed.
Some Success Stories
Scott and I have taught and mentored so many people over the years; instrument skills, singing, set planning, stage presence, music ministry. Success may be measured simply by a student playing a musical instrument or singing for the first time, or someone returning to music after a long absence. We've had kids get involved in bands, retirees take up new instruments or pursue singing, music leaders in other churches gaining skills and confidence, folks fulfilling dreams to play hospice. Here's some testimonies we'll add to as we have time.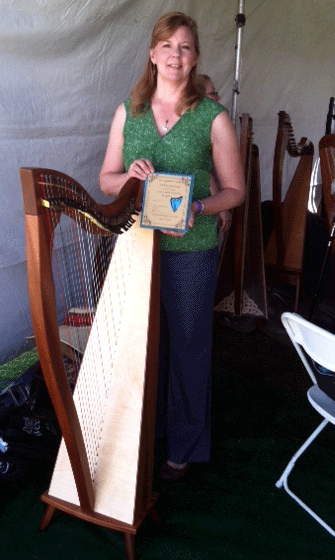 Kris wins 1st place
at Scottish Harp Society Competition
Harp Student - The Scottish Harp Society of America is a non-profit educational organization dedicated to the Scottish harp, and its music both ancient and modern. It was founded in 1980 by Christina Tourin, staff harpist at the Von Trap Family Lodge for 17 years (aka Sound of Music), founder and director of the International Harp Therapy Program, and founder of the World Harp Orchestra. The Society sponsors performances, presentations, workshops and classes, competitions, and gatherings, and is the sanctioning body for qualifying Scottish harp competitions.
One of my students, Kris Mueller, was brave enough to enter a competition for the first time, conducted at the 2014 Rio Grande Valley Celtic Festival, Albuquerque, NM...she won first place in her category! Kris writes:
Irma makes dreams come true! I first met Irma Reeder when I signed up for an Introduction to the Harp class through UNM. We met at Apple Mountain Music and a whole new world of music was opened up to me. Irma made the class feel so comfortable with our harps and took away all the fear of learning a new instrument. After the class sessions were completed, I approached Irma to see if she was willing to take on another beginning harp student for private lessons. Since then, she has welcomed me into to her home studio and my musical journey had begun!

I have been taking monthly harp lessons now for approximately four years and have been able to go from extreme novice to participating in the Scottish Harp Society Harp competition this past summer, where I placed first in the Beginning Harpist category. I credit my relationship with Irma in giving me the confidence to even enter the competition. To go from never really playing the harp by myself in public to entering a harp competition where people are judging you was something I never thought I could do. But Irma had confidence in me: that's what made the difference. I did it and it was all due to the fact that my teacher knew I could.

Irma's musical ability continues to astound me. She is a multi-talented musician who willingly shares her gift with others. From our one-on-one lessons to her performances in front of large crowds, Irma exudes warmth, confidence and consummate knowledge of (and love of) the music she is playing. I have not only learned the basics of how to play the harp but also an appreciation of the beauty of the instrument and the many nuances that go with performing. I am so happy to have worked with her during the last few years and feel so blessed to call this wonderful musician my teacher and friend.
Dulcimer Student - A group of us founded the New Mexico Dulcimer Festival in 2010, an annual music festival with workshops and concerts featuring mountain and hammered dulcimers. Folks come from all over the country to attend. Here's a comment from one of my workshop students from the first year:
Thank you, Irma, for the mountain dulcimer basics class. You were a big hit with all of your students. Not only was it valuable and informative, you made us all feel comfortable and capable to use our instruments. What a special gift you have and you share with those whose lives you touch. (N.S./Indiana, 2010 NM Dulcimer Festival)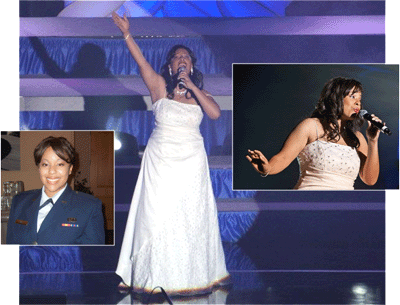 Kandis during Tops In Blue Final Audition Competition
USAF Tops In Blue Female Vocalist - Tops In Blue is an all-active duty United States Air Force (USAF) expeditionary unit made up of talented amateur Airmen. Members are selected in an annual World Wide Talent Search. In a year-long duty reassignment, following intensive staging rehearsals, they perform 120 to 150 shows in dozens of countries. Tops In Blue has toured throughout Western, Central, and Eastern Europe, the Far East, Middle East, Central America, Southwest Asia, Canada, and all 50 of the United States. One of the most important missions is to raise the morale of deployed troops in harm's way. In recent years, Tops In Blue has entertained troops stationed in Iraq, Afghanistan, Kyrgyzstan, Qatar, Kuwait, and the United Arab Emirates. Tops In Blue simultaneously promotes community relations, supports recruiting efforts, and serves as ambassador for the USAF and the United States of America.
After not making it past the initial 2011 tour audition process, Kandis Rich, an officer at the 705th Combat Training Squadron/Kirtland Air Force Base here in Albuquerque, came to me for help. Over the course of lessons for four months, Kandis made it through every step of the selection process, leading to the January 2012 finals competition. In her words:
I am so grateful for Irma's help! She is an amazing vocal coach and I definitely loved working with her. When I performed my vocal audition for the performance director, he specifically asked about my vocal coach. He said that I have had an awesome coach because he saw great improvement in my vocals from the time he heard me last year. He said out of all of the 88 contestants, I had one of the clearest and most crisp sounds and tone. He said my pronunciation was well improved and he could hear and understand the lyrics very well. He also said that it was clear that we worked on my breath support because my pitch never fell and I was able to sustain notes. Irma definitely gave me the confidence to really pursue this dream even more. Even while I was at the audition, as I was about to perform my solo performance for an entire Lackland Air Force Base audience, I was thinking about some of the things Irma told me right before the curtain opened. Before my music started and before the audience ever saw me, I was already in character and ready to hold the audiences' attention for the four minutes I was on the stage.
We couldn't be prouder…Kandis was selected as one of 9 female vocalists for the 2012 world tour. She joined 35 other airmen (singers, instrumentalists, and technicians) coming from duty stations all over the North American continent, plus Hawaii, Germany, Korea, Japan, and the United Kingdom.