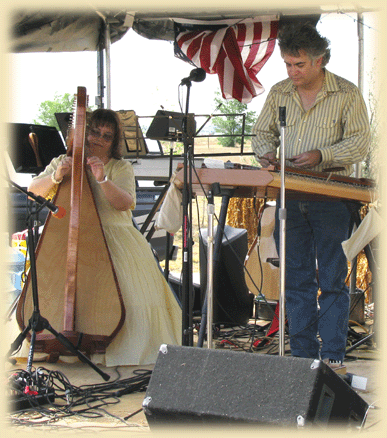 Outdoor party
Someone's special birthday coming up, and you want to make it memorable? Do you want to celebrate the birth of a new child on earth? Think of all the reasons people get together to share good food, friendship, and fun. Are you a business owner who wants to give your employees a great Christmas party, a realtor with a classy open house that could be bumped up several notches by hosting live music? Is a loved one a shut in or in hospice, where you'd like to give the gift of quiet comforting music? Has a book closed in an important family member's life where you need appropriate music for a funeral or memorial service? We are experienced in playing in all these different environments. We've played at corporate events, house parties, anywhere people are looking for delightful entertainment from considerate and thoughtful musicians. We can give educational programs where we talk about our cadre of unusual instruments, their history, our personal history with them, and share music that will not soon be forgotten. We've had numerous students that came to a particular instrument because they first heard us perform, and wanted to find out how to make their own music. In our modern culture of mp3 players, iPods, and streaming video, there's nothing that can quite compare to an evening of intimate, live music. We're happy to just provide background ambience, but also love opportunities when we get to interact with our audiences and make the time very personal.
We have a music entertainment business license issued by the City of Albuquerque, and pay gross receipts tax, state, and federal income taxes on all business income including tips. We strive to live lives that are an example of honesty and integrity. It is very difficult for full-time musicians to make a reasonable living in the Southwest. I hear the same story from musician friends throughout New Mexico and in neighboring states. Our day jobs keep a roof over our head so that we can pursue our passion in teaching and performing. We have often said we have the business license so we have the privilege to pay taxes, and the privilege to charge a fee for demonstrating a lifetime of hard work and experience. When you hire a flesh and bone musician, you're keeping the live music tradition alive. For that, we are very appreciative.
Click here to see what kind of music we play, or here to see some video clips.