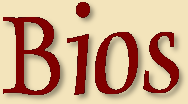 Irma Reeder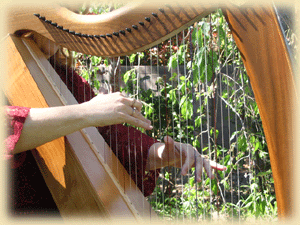 Celtic harp, mountain dulcimer, bowed psaltery, electric and acoustic guitar, mandolin, banjo, bodhran (Irish frame drum), tongue drum, piano, synth, marimbula (giant thumb piano bass), fiddle, ukulele.
I was born in Texas, but grew up in Germany, the youngest child of a career Army officer (WWII, Korea, and Vietnam). My family provided a strong early music influence, coming from generations of Ozark mountain musicians including several fiddle makers. Mom taught me to sing melody and harmony with the family long before grade school, and how to tune a guitar to open-G and play using a pencil as a noter before before my hand was big enough to reach around a guitar neck. My first guitar student was my best friend, Joanne, in 5th grade. That was a lot of fun, so I started teaching regularly as a teen, as well as directing vocal and instrumental ensembles. I have had the opportunity to study vocal performance for over 3 decades with some amazing instructors, and also studied conducting. When I hit college, I fell in love with the Broadway musicals, performing in college and local theater groups. I was a soprano soloist with the local symphony, the Michael Iatauro Jazz Quartet, and performed with chorales and light opera and opera companies, including Ensemble Pro Musica, the Celebration Chorale, the Albuquerque Civic Light Opera and the Opera Theater Southwest. After learning to play the delightful mountain dulcimer, I competed and won the 2009 Colorado State and 2011 Texas State championships, and the 2016 Southern Regional championship in Mountain View, Arkansas at the Ozark Folk Center. I'm an ongoing manager and past Board of Directors member of the Albuquerque Folk Festival where I teach mountain dulcimer, lead a Country Gospel/Cowboy sing along, and have also taught Celtic harp. I was an instructor at the inaugural Jemez Mountains Dulcimer Festival (Los Alamos, NM), and have taught at the Red River (Red River, NM), Colorado State (Fort Collins, CO), Lone Star State (Glen Rose, TX) and Winter Festival of Acoustic Music (Irving, TX) Dulcimer Festivals. Because mountain and hammered dulcimers are so unfamiliar in the western US, I co-founded the non-profit New Mexico Dulcimer Association which produces the annual New Mexico Dulcimer Festival (Albuquerque, NM) where I joyfully slave as Association President, Festival Director, and one of the local instructors/performers. We bring in nationally/internationally-recognized headliners to NM and attendees have come from Maine to Washington State, Florida to California, even Saskatchewan, Canada. I teach individual and group music classes privately and through the University of New Mexico Contiuing Education. Church music has been a central part of my life, and I have been honored to serve as music administrator and choir director in various churches since 1982. In a long succession of bands and ensembles I've started, I have great fun putting on my cowgirl duds and directing the Wing & a Prayer old-time/Cowboy/country Gospel band, and perform with Scott DBA Music for All Seasons where we sometimes collaborrate with treasured music colleagues. Also see Teaching.
Scott Reeder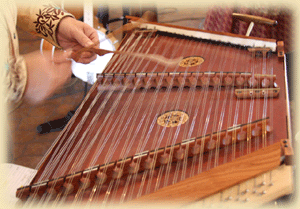 Hammered dulcimer, bowed psaltery, electric and acoustic guitar, mandolin, octave mandolin, tin whistle, low whistle, recorder, piano, synth, melodica ("half" an accordion), concertina (Victorian-age squeezebox), marimbula, electric bass.
I'm a native of Albuquerque. My great great grandfather on my mom's side played fiddle for dances. It's reported that his wife was a fantastic multi-instrumentalist (organ, accordion, concertina, perhaps other things) and that she always had a song in her heart, was always singing. One of their sons was a career musician. Mom has a few photos of him where he is posing with guitar, pear-back mandolin, banjo, harmonica, some other things. My grandmother said he was a music professor at Texas A&M, but we haven't been able to confirm that. One of this fellow's sons was Gene Baugh who played horns and conducted the WBAP staff radio orchestra in Fort Worth, TX. A daughter was a cathedral organist in New York city. My great grandfather on my mom's side, C.T. Turney, led one of the first large cattle drives from Texas to New Mexico in 1904, settling in Dona Ana county. My mom was born in Mesilla Park outside of Las Cruces, and lived 75 of her almost 90 years in New Mexico. Mom's mother was a concert pianist.
My dad was born and raised in Missouri. He came out to Albuquerque just after high school to work for an uncle before he joined the Navy where he became a radio operator on flying boats. After the Pacific war, he returned to Albuquerque where he became a radio technician and eventually chief studio engineer at KOB radio in the early days before TV. Dad had two sisters. One had a career as a night club singer and the other with the Saint Louis Metropolitan Opera. My dad's dad played the Vaudeville circuit, reportedly on any instrument with a keyboard or strings.
Mom and dad saw something in me early on, so I started organ lessons at age 4, performing on organ throughout my youth. With both parents from the World War II big band era (mom got her R.N. degree through the Army Cadet Nurse Corps) and lots of that music in the home, I started exploring jazz in my early teens, performing on piano and guitar. I also started playing recorder in high school. I've taken up many additional instruments over the years. I was always singing, even before grade school, and had the opportunity to study voice for 15 years as an adult. I've been in numerous bands, ensembles and chorales, and have performed as tenor soloist in churches, weddings, and the Celebration Chorale. I've led weekly church music with Irma since the early 1980's, and perform with her under the Music for All Seasons name and in the Wing & a Prayer band. With Irma, we won the 2016 Southern Regional Ensemble Championship in Mountain View, Arkansas. I've taught electric and acoustic guitar, electric bass, hammered dulcimer, bowed psaltery and penny whistle, as well as instrument amplification and sound system design and operation. I'm an ongoing manager and past Board of Directors member of the Albuquerque Folk Festival where I've scheduled instrument workshops for years, and lead workshops myself. I'm also a founding member, Board of Director, and instructor/performer at the New Mexico Dulcimer Festival, and have taught at the Red River (Red River, NM), Colorado State (Fort Collins, CO), Lone Star State (Glen Rose, TX) and Winter Festival of Acoustic Music (Irving, TX) Dulcimer Festivals, as well as through the University of New Mexico Continuing Education. I've scheduled musicians for other various events in Albuquerque including the music stage at Weem's International Artfest.

We can compliment our duet music with additional musicians to complete the sound you may be looking for. Below are two accomplished friends that we love to perform with.
Jane Ellen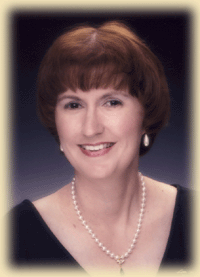 Jane Ellen
Jane Ellen is an active composer, performer (piano, keyboard), and recording artist, with four CDs and over 50 print publications to her credit. Her catalogue to date includes works for chamber ensemble, solo instruments, choir and keyboard, school, and church. Jane's film credits include the theme for the film documentary The Man Who Lost the Civil War (2002), the soundtrack to the German film Ekkelins Knecht (2008), and works in the soundtrack to the HS Maju Productions film Lukisan Hati (2010). Her radio work includes the soundtrack for two radio productions written and produced by Chris Dale; and for six years Jane collaborated on scripts for the national award-winning children's radio program Boombox Classroom. Passionate about theatre, Jane has collaborated with playwrights Christina Hamlett and Kathleen Matthews on several projects and works frequently in collaboration with lyricist Claire Roth.
Gretchen Van Houten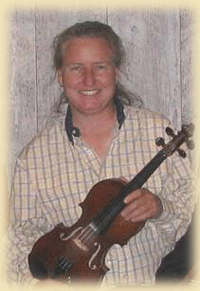 Gretchen Van Houten
Gretchen Van Houten started playing harmonica and guitar when she was 4. Between the ages of 8 and 17, she had 9 years of classical piano training and 5 years of classical violin. Starting at age 14, Gretchen competed on fiddle for 15 years. She won her first New Mexico State Championship when she was 17, captured that title 6 more times, became the National Fiddle Champion at the Walnut Valley Festival (Winfield, Kansas) in 1992, and later won the prestigious Western Music Association's fiddle contest at Old Tucson. She is a studio musician, and has radio, TV, movie soundtrack and on-film credits. Gretchen teaches fiddle, flatpick guitar, banjo, mandolin, bass, and piano, with an emphasis on improvisation in Western Swing, Cajun, Irish, Country, Bluegrass, and Texas styles.