A couple we sang for in 1996
Live music is often one of the smallest costs of a wedding, yet it can have the most significant effect on you and your guests. Long after people have forgotten venue details, what they ate, or how the officiate did, they will remember if the music was any good. We can arrange a free private audition so you can see if the music we play is what you're looking for, or just go to our Listen page for some examples. We encourage you to contact other music artists to find the exact music you want, and obtain confidence that our pricing structure is competitive.
We each started playing/singing at weddings in the mid 1970s in our early high school days. When we met in college, we soon started performing together as a duet. The first wedding we did together was in 1978. Over the years, we have done weddings of all types, in all sorts of places. We delight in bringing fun and romantic musical memories to your day that will be talked about and appreciated in future years. We have provided music for highly formal weddings in elegant cathedral surroundings, classy weddings indoors and out, casual events in humble chapels or sunny backyard gardens, and grand celebrations in warm and cozy facilities when winter storms raged outside. We can match your imagination, whether it be a touch of elegant calm in an intimate space, respectful but casual fun and excitement, or a celebration of great joy and exuberance. We are well versed in how to turn tunes to affect you and your guests' emotions in pleasant and unexpected ways. We've pretty much seen it all over the years, and have the experience to minimize the normal mishaps and coordination challenges encountered from time to time, keeping your day light hearted and on track. We've been joined by chickens on an outdoor stage platform, played through untimely emergency vehicle sirens, have had horses and emus join in with their vocalizations to our upbeat tunes, and have gracefully dealt with surprise downpours, dust devils that sent decorations flying, nearby revving semitractor trailers, and the occasional late bride, groom, mother-in-law, or officiate. Wedding party clothing issues, lost contacts, other things that can affect plans for perfect timing are par for the course. We can handle such incidents with aplomb and tact, keeping you and your guests happy and comfortable.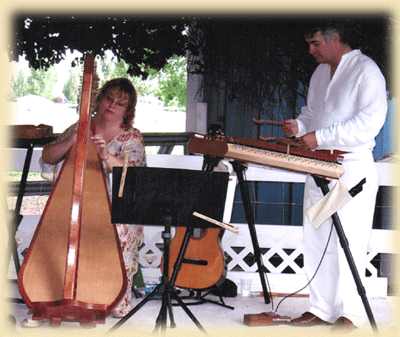 Backyard wedding (2007)
We understand a couple's quandary of what music to pick, often aided with "helpful" advice from friends and family. We love working with the wedding couple to ensure your wishes are met, and are very experienced in listening to your dreams to guide the music selection. We are happy to work with all parties (family, friends, church administration if involved), to make sure needs are respectfully addressed. As required, we can provide instrument/vocal amplification, or work with your sound engineer as needed. While there is great variety to religious and civil weddings, the musical needs are often similar, and can be tailored to your specific desires. We'll usually play for 20 to 30 minutes before a ceremony, helping everyone leave their regular day at the door and get focused for what is to come. We will select appropriate tunes from our standard repertoire we keep ready and polished. If it's your custom to have moms, other relatives, and the wedding party seated formally, we can help pick out appropriate music and time the length of pieces on the fly where they'll fit just right. There's always a special song either calling things to order or bringing the bride down the aisle. That's usually a specific selection by the bride. Different traditions have special places during the ceremony where you may want vocal or instrumental music (lighting of a unity candle, salt ceremony, we once did a "coffee" ceremony, other times of reflection). At the conclusion of the ceremony, there's always a joyful tune to help celebrate the new union, often used for the wedding party to recess out of the ceremony space. Following a ceremony, we'll often play background music to help guests pass the time during photographs. We sometimes are engaged to provide background music at the reception, or just fill in before the dance band or DJ is ready to kick off the subsequent celebration. We have a standard fee to support a wedding rehearsal, and can also be engaged to provide background music for rehearsal dinners and such. With proper coordination so we all know the ceremony particulars, you can also trust us to pull off your wedding without the absolute need of us attending your rehearsal.
We play many complimentary instruments, even when playing as a duet. We'll normally bring 6 or 7 different instruments that are played in different combinations to add tonal color and keep things interesting for your guests. We have a regular contract we use for all of our engagement bookings, and would be happy to review your wedding plans and contract details before you make a financial commitment. During such review, we'll also cover our performance needs to make sure we can be fully successful for you. Go to Listen to hear the kind of music we are performing these days. We can do pure instrumental, or include vocal selections as well. Make sure and book us early so we can reserve your special day.